AS A TODDLER TO AMERICA IN 1851
Gree van Daatselaar-Somsen [P53]
He learned walking at the Japikshuis in IJzerlo near Aalten, the root of the American Somsens, where we also planted a lime-tree at our great reunion in August 1997 to commemorate all the Somsens who emigrated to America in the last century.
Arent Jan (Aaron John) Somsen emigrated as a two-year old toddler, together with his parents, brothers and sisters to America in 1851. That must have been a drastic event for everyone involved.
His parents: Hendrik Jan Somsen (1801-1863) and Johanna Berendina Rensink (1811-1862) departed from the Japikshuis with four young children to Sheboygan, Wisconsin.
In 1852 another son was born there.
Arent Jan learned walking in the quiet Achterhoek, but he had to learn to stand on his own feet in distant America. He succeeded quite well.
Arent Jan is such a name, same as of so many emigrants, which is hard to pronounce. Very soon he was called Aaron John and later shortly: John.
John married Antonia Grooteboer, also of Dutch descent, in 1873. Her name became Jane.
John and Jane got fourteen children. Their daughter Josephine Henrietta (1890-1975) was their tenth child and at a later age she wrote down several interesting details from the life of her father.
THE LIFE OF AARON JOHN SOMSEN

(1846-1930) - [P753]

Josephine Henrietta Somsen Schaumburg

(1890-1975) - [P869]
I know little of Dad's childhood; his parents died when he was about 15. Think both had "lung fever". I have heard him say he wished he had been brought up Catholic so he could have had some religious training; evidently his was not a religious family.
I have no idea when he moved to southeastern Minnesota: Fillmore County. Probably after his sister married and moved. I think he worked for the Bolands. My mother worked for Aunt Lizzie and it seems probable they met there. He was 25 when he married, Mother was 17 when they were married on September 2, 1873. I am sure he had at least one sweetheart with whom he quarreled, as I remember hearing that he told her "she could go to hell".
They lived in Lime Springs, Iowa at first where Dad worked in a store for Uncle Gerritt (I think). "Little Aaron" and Levi were born in L.S. The next 3 or maybe 4 children were born on the farm in Minnesota.
Later the family moved back to L.S. where the rest of the family of 14 kids was born. I think Dad and Uncle G. were in partnership in the store for a while, but as far as I personally remember, the sign on the store was John Somsen.
About 1898, part of the family moved out to the farm, which had been rented. The 3 older boys did the farming and the 2 older girls kept house. I remember spending part of my time on the farm; wonderful memories.
In 1904 (no, 1903) the family moved to Dakota. Fire had destroyed the original store building, also another one to which the business had been moved. The 1st 3 years were hard, my Dad planted corn every year, though few people raised corn. The climate was not considered suitable. I'm sure we all, including Eleanor's Mother and brothers, remember the long, pleasant summers together.
In 1930, the machinery, stock, etc. were sold and Dad and Mother lived in part of the house while the farm was rented.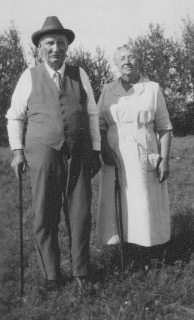 Arent Jan (Aaron John) Somsen [P753] and Antonia (Jane) Grooteboer [P754]. Photo on the occasion of their 50th wedding anniversary, 02-09-1923. [
Click
for larger image]
From my own experience, I feel my Father had arthritis for several years before he died. He was a large man and hard for women to take care of so he was taken to a nursing home in Valley City. During the years his mind gradually failed so at times he was confused in his thinking. He died in V.C. on July 25, 1930.
My Dad was a quiet person, not given to loud hilarious conversation. In fact, he didn't talk a great deal. Maybe he didn't get a chance, with the family he had. He was ambitious for his children, but after a disastrous attempt to educate the oldest son as a doctor, decided to let the others take their own course. He was modest in the extreme. I never heard him tell a shady story and he disliked to hear others tell them. He didn't believe in making a great to do about birthdays or Christmas, but if a neighbor's child needed shoes or some other necessity, he tried to see he got it.
I was an adult before I knew he was afraid of a thunder storm; didn't believe in making us afraid even (?) he was.
…
Could mention (Barend H.Kroeze) as president of Jamestown College, said Dad was the brainiest man he had ever met.