Somsen

Foundation Products /

Producten

SomsenStichting
<![if !vml]>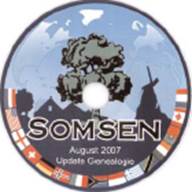 <![endif]>Cd-rom Update genealogy
Updates of the CD ROM of our genealogy can still be ordered. The family genealogy has been updated up to August 2008. Thanks to the industrious work of Dick Somsen you have easy access to all the Information of our family. The CD ROM enables you to search all the data and it is in two languages: Dutch and English. For USA citizens it is easiest to transfer $15 for each CD ROM (mailing costs included) to Mrs Marieke Edwards, 920 East Bay Dr. NE#3D301 Olympia, WA 98506-1222. Please do not forget your name and address and the article you want.
Cd-rom Update genealogie
Er kunnen nog updates van de Cd-rom van onze stamboombesteld worden. Deze is bijgewerkt tot augustus 2008. Dankzij het noeste werk van Dick Somsen bent u weer helemaal bij. Iedereen en alles staat op deze Cd-rom met zoekfunctie. En ook nog in twee talen. Nu voor de verlaagde prijs van € 7,50. Met verzendkosten en emballage is de prijs € 10,00. Maak € 10,00 over naar onze penningmeester onder vermelding van Cd-rom plus uw naam en adres. Postbank 7909885 t.n.v. Somsen Stichting Lichtenvoorde
<![if !vml]>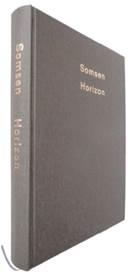 <![endif]>Somsen Horizon bound in a nice volume
Theo Somsen had the first 20 copies of Somsen Horizon bound. We all admired it but we felt a bit uneasy when we heard the price. For € 12.00 per volume Gerda Boswinkel from the Slingelaan 35 in Aalten, will bind the magazines for us. We only have to bring the magazines ourselves and later collect the bound volume. You can contact her by phone (+31543451423) or by her husband's email: reintboswinkel@hotmail.com. You are kindly requested to pay in cash. For our overseas relatives it is of course better to find a bookbinder at home. See newsletter nr 1 for details and the result.
Somsen Horizon kan ingebonden worden
Theo Somsen heeft hij de eerste 20 nummers laten inbinden. Vol bewondering hebben wij er allemaal naar gekeken en we vonden het prachtig. Maar onze gezichten betrokken toen wij de prijs hoorden. Voor slechts € 12.00 per boek wil Gerda Boswinkel uit de Slingelaan 35 in Aalten, de tijdschriften voor ons inbinden. Maar dan moeten ze wel gebracht worden en later weer worden opgehaald. U kunt contact met haar opnemen per telefoon (0543-451423) of via de mail van haar man: reintboswinkel@hotmail.com. Gelieve meteen contant te betalen. Op de voorzijde ziet u het resultaat. Zie voor details en het resultaat nieuwsbrief nr 1.
<![if !vml]>

<![endif]>
DVD Reunie 2007
<![if !vml]>

<![endif]>
<![if !vml]>

<![endif]>
DVD Somsen Panorama
<![if !vml]>

<![endif]>
Somsen T-shirts
<![if !vml]>

<![endif]>
Somsen T-shirts
<![if !vml]>

<![endif]>
Somsen Trendy Carrier Bags
<![if !vml]>

<![endif]>
Somsen Trendy Draagtasje
<![if !vml]>

<![endif]>
<![if !vml]>

<![endif]>
Somsen Stickers
<![if !vml]>

<![endif]>
<![if !vml]>

<![endif]>
Somsen Buttons
<![if !vml]>

<![endif]>
<![if !vml]>

<![endif]>
Somsen Horizon
<![if !vml]>

<![endif]>
The articles above can be ordered by contacting the board.
De bovenstaande artikelen kunnen worden besteld door contact op te nemen met het bestuur.